3 νέα προιόντα απο την Presonus!
1. Quantum 2626 νέα οκτακάναλη κάρτα ήχου Thunderbolt
με άμεση πρόσβαση στούς προενισχυτές και 1ms Latency !
Tιμή 599 € !!
2. IoStation24c ο συνδιασμός που όλοι περίμεναν.¨Ενα
Fadeport μαζί με μια κάρτα 24c! Το απόλυτο εργαλείο
για παραγωγή και ηχογράφηση μουσικής !!
3. Η νέα σειρά αναλογικών κονσολών ARc είναι εδώ με νέες δυνατότητες και καταπληκτικό ήχο !
Going solo doesn't mean working alone.
Check out the ioSTATION 24c. An audio interface and a production controller in a single, small-footprint enclosure, almost like we combined an AudioBox and a FaderPort. But better.
Introducing the Quantum 2626
In the tradition of the FireStudio Project and FirePod: Eight XLR inputs on the front, with Thunderbolt 3 Quantum speed.
And at a price that you may not expect.
Introducing StudioLive ARc Interfaces/Mixers
Portable. Affordable. Recordable—and built to record. With a pristine analog front-end, high-gain XMAX mic preamps, and an 18x4 24-bit, 96 kHz, USB-C compatible USB 2.0 audio interface, its hybrid design makes it simple to record studio productions and mix live shows from a single intuitive console.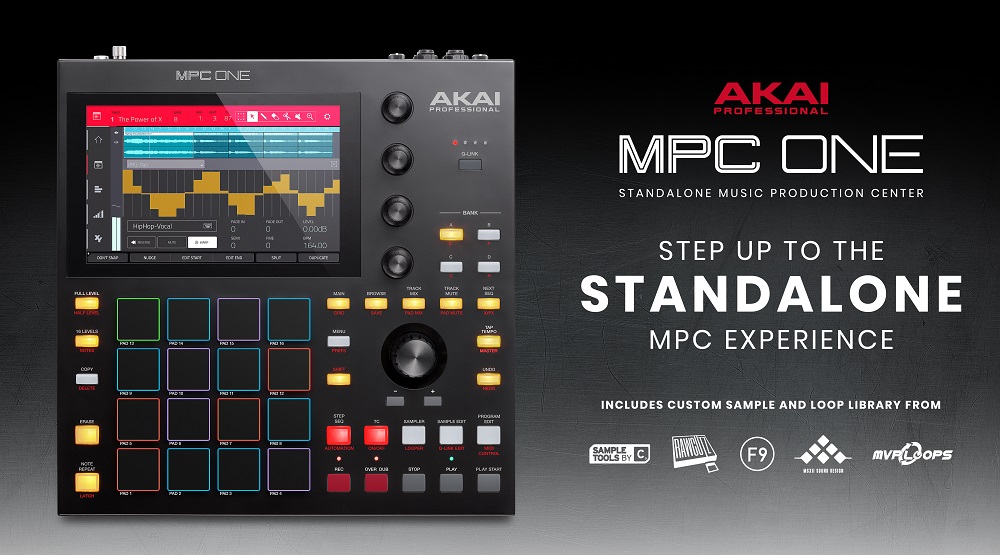 Standalone MPC – No Computer Required | Powerful Multicore System from the MPC Live and MPC X | 16 Velocity Sensitive RGB Pads | Brilliant 7" Multi-Touch Display | 2 GB RAM, 2GB Onboard Storage, 2GB pre-installed content | Mac & PC Controller for MPC Software (included) | Stereo Line Level Inputs | MIDI In & MIDI Out | 4 TRS CV/Gate Jacks, 8 Outputs Total | USB 2.0 Slot for Storage Drives or Midi Controllers for use in Standalone | SD Card Slot
STEP UP TO STANDALONE
MPC One is a total music production solution to take your ideas from concept to finalized radio-ready beats.
FULL MPC EXPERIENCE
Don't let the size fool you. The MPC One packs a lot of features and workflow tools into ONE powerful punch. Beat programming, editing, mixing FX and instruments and so much more means an uncompromised creative experience.
FULL CONTROL
MPC ONE delivers a truly empowering hands-on experience, ready for any music production task. Edit and trim samples with hand gestures on the brilliant 7" touch screen display. Express your ideas perfectly with the assigned knobs and touch keys that eliminate diving through pages of menus.
STUDIO CONNECTIVITY
MPC One integrates into your creative space with all the ports and jacks you need. USB, MIDI DIN, CV/Gate, and 1/4" line-level audio input. With USB and SD card slots, you can save, transfer and share your music.
PRO PERFORMANCE & TECHNIQUES
Your favorite music production techniques come standard on MPC One. Tape Stop effect, Note Repeat for pulsing hi hats, and 16 Levels to play those melodic 808s plus many more.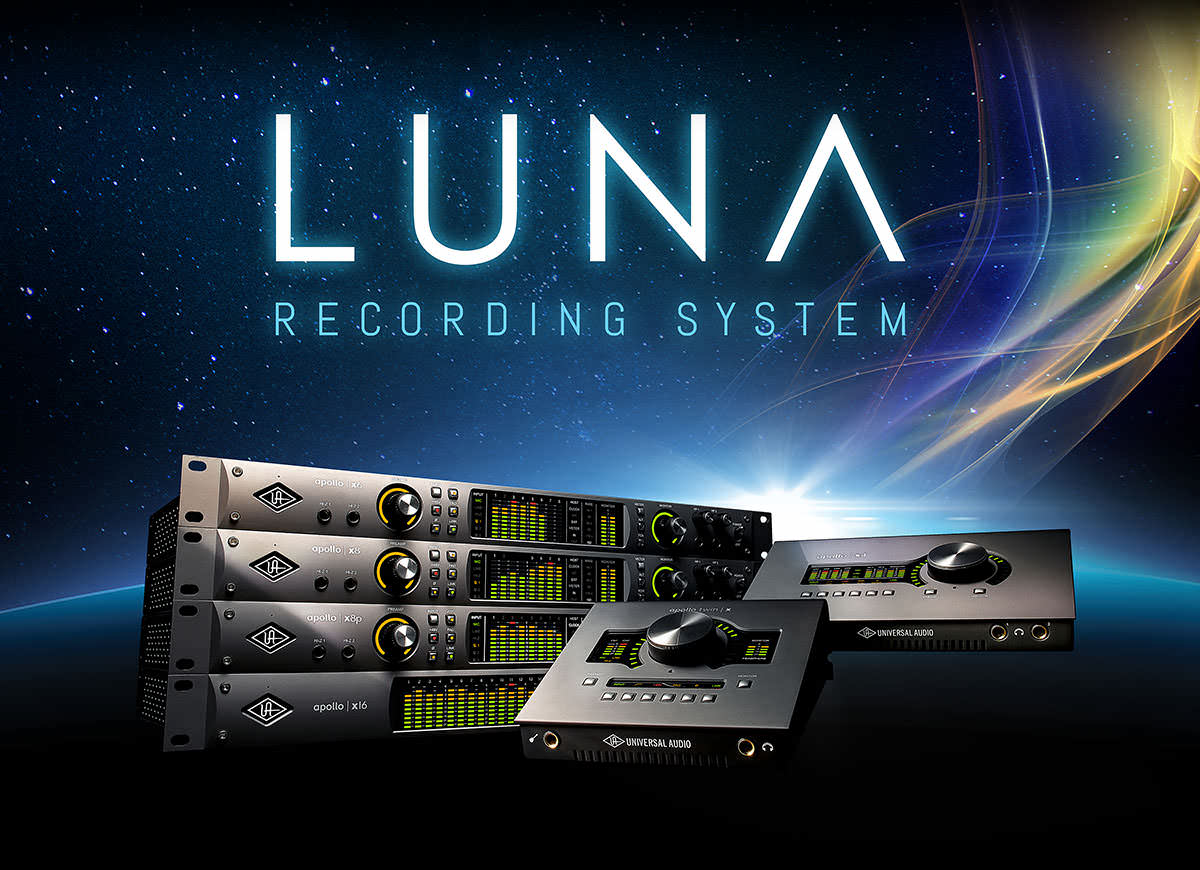 ANALOG SOUND AT THE SPEED OF LIGHT
LUNA transforms Apollo interfaces into the most inspiring and fully‑integrated Mac‑based recording systems on the planet.
DEEP APOLLO INTEGRATION - A Fast, Natural Workflow
BUILT-IN NEVE® SUMMING - Instant Classic Console Sound
INTEGRATED MULTITRACK TAPE - Warmth and Punch on Demand
ALL-NEW LUNA INSTRUMENTS - Incredible Realism to Fuel Inspiration

What's New
Our professional desktop audio interface grows even more powerful. Without getting much bigger. Zen Tour Synergy Core brings the following upgrades from the original Zen Tour
4x DSP + 2x FPGA Synergy Core low-latency effects and audio engine processors

Improved AD/DA conversion – up to 130dB DNR, on par with Orion Studio Synergy Core

2x increase in channel count (32 channels at sample rates up to 192kHz)

Thunderbolt™ 3 & USB 2.0 cross-platform connectivity for Mac / Windows

Support for new Synergy Core-exclusive effects like Auto-Tune Synergy, Opto-2A, MES-432C, Comp-4K-Bus and others

8 DC-coupled line outputs for CV applications like controlling modular synthesizers

Discrete ultra – linear microphone preamps
Για Προπαραγγελίες πατήστε εδώ
WORLD'S FIRST
Antelope Audio's first Dante interface is also the world's first 64-channel AD/DA converter. Featuring all industry-standard analog and digital connections in 2U of rack space, including, 64 channels of analog I/O, Thunderbolt 3, Dante, AES/EBU, HDX and MADI, Galaxy 64 is equipped to handle all audio going in and out of your production facility or live event.
SYNERGY CORE
Galaxy 64 is a Synergy Core interface that runs ARM DSP + FPGA chips in custom configurations to process tens of input/output audio streams and hundreds of low-latency studio effects without burdening your computer. With 12x ARM DSP + 2x FPGA units on-board, a single Galaxy 64 can handle large sessions with hundreds of FX instances applied per each individual channel.
TRULY UNIVERSAL
Designed for recording, post-production, live events, broadcast, large-scale scoring recordings, and the enterprise sector, Galaxy 64 fits 64 channels of all-encompassing connectivity, cutting-edge signal processing and rock-solid reliability inside a single 2U rackmount unit.
MADE FOR CRITICAL LISTENING
Galaxy 64 employs high-quality converters providing the lowest Total Harmonic Distortion and Signal-To-Noise ratio in units of its kind. It also boasts a generous 124dB of dynamic range on the AD stage, 128dB at the DA stage and 130dB at the monitor outputs. The converters achieve precise and transparent conversion with accurate transient reproduction. The Galaxy 64 does not require external converters for monitoring and facilitates critical listening without added coloration by virtue of its mastering-grade monitor outputs.
IT'S A SMALL STEP TO A 
GIANT LEAP
The third mixer based on our 96kHz XCVI FPGA engine, Avantis puts all our next-generation technology in a 64 channel / 42 configurable bus console, with dual Full HD touchscreens, a super-flexible workflow with Continuity UI, extensive I/O options, add-on processing from our flagship dLive mixing system, and a rugged full metal chassis.
Step up to Avantis. Leap ahead of the curve.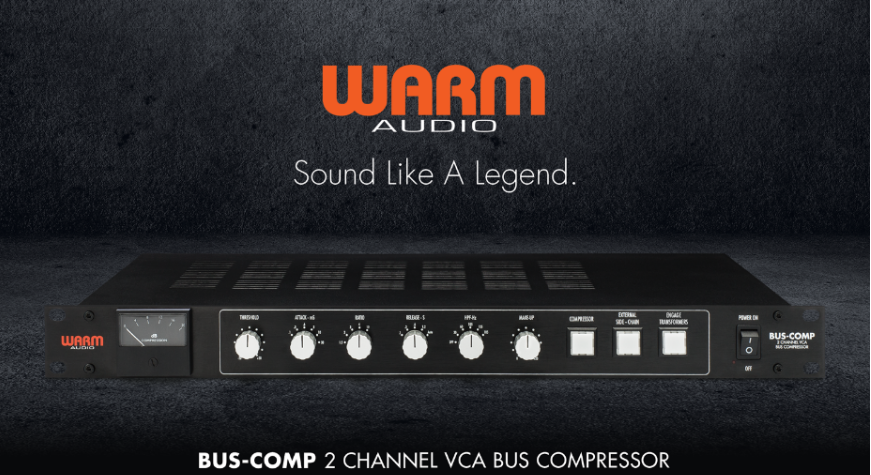 Warm Audio Announces Its First DI Boxes, Bus-Comp Stereo Compressor | NAMM 2020
Warm Audio is widely known and loved for making top-tier recording gear affordable, with mics like the Neumann-inspired WA-47 and compressors like the 1176-style WA76 limiter/compressor.
Today, ahead of the NAMM 2020 convention coming up January 16, the company is announcing two brand-new offerings that will impart rich analog tone in small, rugged chassis—the Direct Box Active and Direct Box Passive—along with the Bus-Comp, a new stereo bus compressor.
Direct input or direct injection boxes can be used to connect an instrument to a recording interface or console without the need for any speaker or microphone. Perhaps the most famous DI boxes of all time were the custom-built units used by Motown to capture most of the guitars and basslines from its '60s-era hits. (Acme Audio's WB-3 is an approximation of that circuit.)
While Warm Audio's new DI boxes don't seek to replicate that Motown sound, they do promise "maximum sonic integrity" thanks to high-quality discrete components and "stunningly transparent" tone, according to the company. "It will not diminish your instrument's original sound or tone in any way... other than making it sound better," Warm Audio says.
Both boxes include a built-in variable pad that can be set to -3dB to -30dB and include custom-wound CineMag USA transformers.
Για παραγγελίες πατήστε εδώ
RME Audio Interfaces Releases New 12Mic, M-1610, and AVB Tool | NAMM 2020
RME Audio, the German-based brand, have unveiled three new pieces of gear for 2020, all of which are set to be available this spring.
The first is the RME 12Mic—a digitally controlled, 12-channel mic preamp. It features built-in AD conversion, MADI, and dual AVB for redundancy. It's a 1U unit with four XLR/TRS combo jacks with switchable Hi-Z inputs, plenty of male XLR jacks, ADAT outputs, and also features fanless cooling and a full-color display.
In all, players use the browser-based routing matrix to route 268 inputs to 282 outputs, with computer connection via USB. Maximum gain for the unit is 75dB with a signal-to-noise ratio of 121.2dB after digital conversion.
Next is the RME M-1610: a 16-channel pro converter that's also in 1U format. This converter gives users 16 balanced analog inputs and eight balance analog outputs, 128 MADI channels per coaxial I/O, 32 ADAT output channels, and a front control panel featuring a full-color screen, secondary headphone output, and a switch for three line levels (+13, +19, +24dB).
Lastly, the AVB Tool is what the company calls a "little helper" and is just that. It's meant to be integrated into existing MADI/AVB as extra front-end connection and includes four mic preamps on combo inputs, MADI/AVB conversion and a routing matrix for analog, digital, and network-based audio signals.
These units are set to ship this spring, so be sure to check back soon for more detailed pricing and release info. In the meantime, click the orange banner below to follow along with more news from the NAMM convention in Anaheim.
Korg Shows Off Opsix FM Synthesizer | NAMM 2020
Korg is, by any measure, killing it at NAMM 2020. The ARP 2600 Reissue, the Wavestate, four limited-edition MS-20s, and even the RK-100 S2 Keytar—any of these would be great showings on their own (OK, maybe not the Keytar). But the Korg hits just keep coming.
Today, the company is showing off the Opsix on the first day of the NAMM 2020 convention.
Though speculation ran wild after the Opsix was leaked in a Reddit thread yesterday, speculation will still be the name of the game for some time yet. While it is on display at NAMM (behind a pane of glass), at the moment the Opsix just a show model—with no announcements of imminent production or release—and few official details.
It is, in fact though, an FM synthesizer with six operators (hence the name) and 32 algorithms. As Future Music's Si Truss surmised yesterday, that makes it basically a full-sized synth built on top of the Volca FM engine, with a bunch of added functionality and features.
Catch up with all the latest Korg news and other product announcements coming out of the first official day of NAMM 2020.
Korg Reissues a Different Kind of Classic with the RK-100S 2 Keytar | NAMM 2020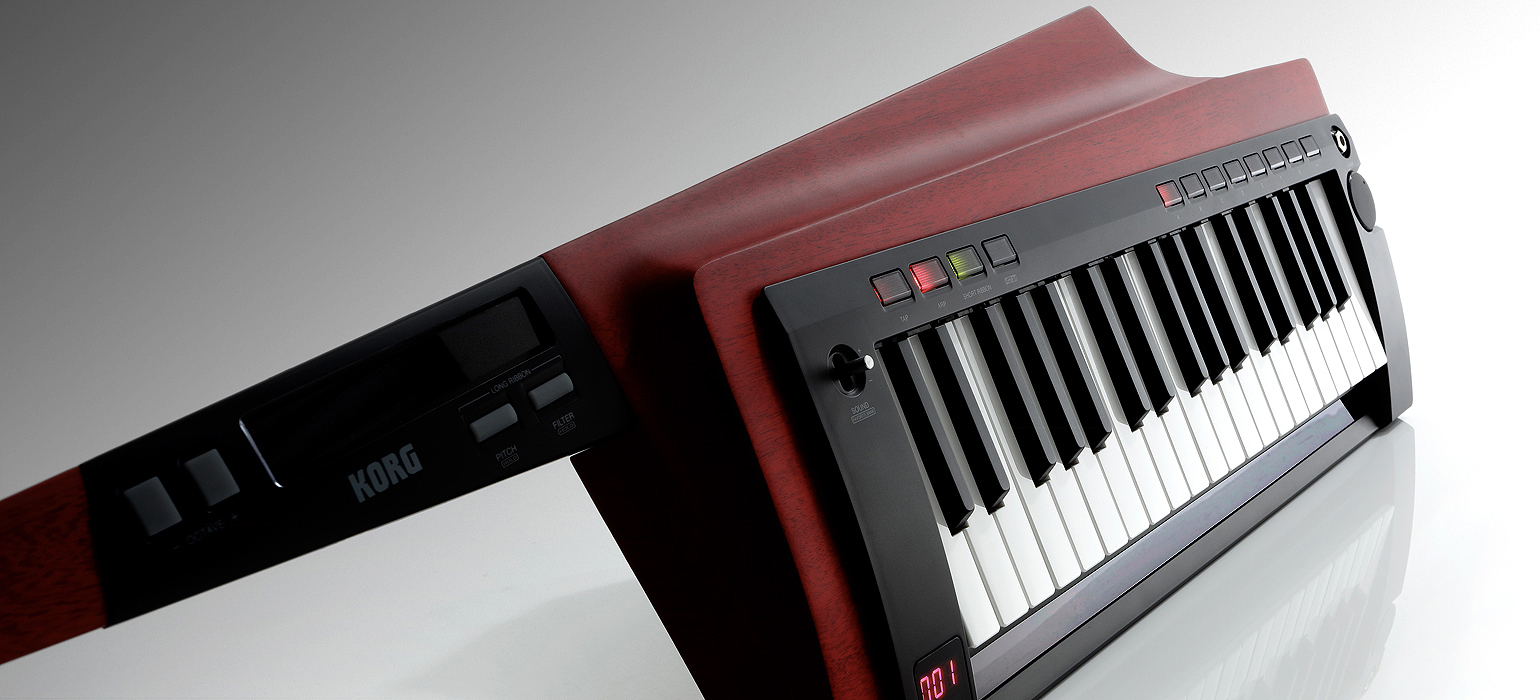 So far this NAMM season, Korg has gone over-and-above expectations for its reissue game. The company is reproducing the ARP 2600 to original specs in exacting detail and offering full-sized MS-20s in limited-edition powder-coated finishes. (And it has also updated its '90s wave-sequencing technology in the new Wavestate synth.)
Now, they're reissuing a different kind of classic with a second version of their RK-100S Keytar.
Less a true reissue than an updated version of a reissue (we'll explain), the new RK-100S 2 is a 37-key, eight-voice, two-oscillator polyphonic synth with wide capabilities for sound-tweaking thanks to onboard effects and the ability to link up to Korg software. It can also be powered by batteries so you can be fully unencumbered onstage.
The RK-100S 2 is an updated version of 2014's RK-100S, which was itself a reissue of the original RK-100 Keytar from the 1980s. Need a refresher on your keytar history? We've got you covered.
Moog Releases the Subsequent 25 | NAMM 2020
In November, Lisa Bella Donna came by the Reverb studio to play through a range of Moog synths, including the Subsequent 37, in our "How to Choose a Moog" video. We may have to reshoot the shootout, now that the Subsequent 25 has arrived.
2014's Sub 37 and the later Subsequent 37 were the result of Moog building on the foundation of the Sub Phatty. The Subsequent 25 is meeting right in the middle.
It sports the same number of keys as the Sub Phatty monosynth, but it also includes the two-note paraphony of the Subsequent line, along with its powerful built-in arpeggiator and 64-step sequencer.
Arturia Debuts the New KeyStep Pro | NAMM 2020
With NAMM kicking off in a few days, brands are dropping new product news for 2020 left and right. We here at Reverb are taking on the task of sorting through it all to bring you the best, most exciting news and announcements. Today, we've got a hot one, courtesy of the folks over at Arturia.
Newly unveiled today is Arturia's KeyStep Pro—a brand-new, all-in-one sequencing solution for taking full control of your modular rigs, outboard synths, and software studio all at once.
Arturia has dubbed the KeyStep Pro a "universal sequencing mastermind," and taking even a cursory glance over its spec sheet will show you exactly why.
Design-wise, the KeyStep Pro features 37 note slim keys equipped with velocity and aftertouch sensitivity and featuring an LED above each key for visual feedback, a crisp OLED display, one MIDI in and two MIDI outs, USB, a sustain pedal input, and a metronome with included speaker and line output.
But in its features list is where the KeyStep Pro really shines. Packed into this unit, players will find:
A four-track polyphonic step sequencer with up to 16 step buttons, 64 steps per sequence, and 16 notes of polyphony per step
A melodic sequencer offering real-time recording, step recording, and step editing; scale quantization with user scales; pitch, velocity, gate length, time shift, and probability for each note; polyphonic CV outputs
An arpeggiator with seven arpeggiator modes and a five-octave range
A polyrhythmic 24-part drum sequencer
A performance-oriented sequencer featuring pattern randomization, quantized/unquantized recording, forward and two random playing modes, and a looper
Chord mode
Controller mode, which uses the five encoders to send CCs and automate CCs
With all of its connectivity options, features, and effects, the KeyStep is a really exciting addition to the Arturia family—especially for those with sweeping software/hardware hybrid rigs that they'd like to be able to easily perform with on stage or in the studio in real-time.

Roland Unveils Its First MIDI 2.0-Ready Keyboard Controller, the A-88MKII | NAMM 2020
So it's fitting that Roland is announcing its first MIDI 2.0-ready keyboard controller for NAMM 2020, even if the long-awaited update to the MIDI 1.0 protocol isn't quite ready for showtime. Today, Roland unveils the A-88MKII—a premium 88-key MIDI controller with a weighted-action keyboard with the company's Ivory Feel PHA-4 wooden keys.
In addition to the luxurious, full-sized keyboard, it also sports eight assignable pads with easily saveable and recallable pad-bank presets, RGB-lit controls, a built-in arpeggiator, sensitive mod-wheel, and the ability to split the keyboard into three zones for your choice of instruments or sounds. In short, it's a high-quality piano-like controller with a focus on keys-based playability and expressivity, but with enough extra features to be at home in any home or project studio.
But the extra novelty here is Roland's promise that it is ready for MIDI 2.0, an advanced update to MIDI 1.0 that has been in the works for years. Companies from Roland and Roli to Ableton and Google have had a hand in developing MIDI 2.0. It will come with a host of new possibilities: raising the maximum number of MIDI channels from 16 to 256 (allowing a controller to control far more instruments, VSTs, samples, etc. simultaneously); improving the resolution of velocity information, note changes, and other parameters; and allowing two-way communication between MIDI 2.0-equipped instruments.
Exactly how the A-88MKII will take advantage of MIDI 2.0 is still unknown, and all the companies, manufacturers, and other actors involved in the development of the protocol still need to fully ratify the fine-details of the spec, which is expected to happen in early 2020.
One type of control that people are excited about in MIDI 2.0 is per-note pressure and pitch bend information—meaning that you could perform individual vibrato on every key of the A-88MKII, as you might on MPE devices like the Roli Seaboard, if the A-88MKII is indeed equipped to capture such expressive gestures.
We've asked Roland for more information on the possibilities of MIDI 2.0 and how A-88MKII will make use of them, and will update this piece as soon as we have more information. In the meantime, today's announcement is still an exciting sign that MIDI 2.0 will soon be live.
Published Jan 06, 2020 by Reverb
News and Reviews
Mackie Unveils 3 New Microphones | NAMM 2020
New for 2020, Mackie unveiled three microphones at the NAMM show in Anaheim that will be part of a new Element series: the EM-89D Live Vocal Dynamic Mic, the EM-91C large-diaphragm condenser mic, and the USB condenser the EM-USB.
First up, the EM-89 D is a live vocal dynamic microphone featuring a cardioid polar pattern. Though it can certainly do high-quality double-duty as a tool for recording your instruments and amplifiers, it's primarily designed to be a handheld on-stage tool tuned for vocals specifically.
Capitalizing on the growing number of streamers, gamers, and podcasters, the EM-USB is a USB condenser mic that works easily and proficiently without the need for an audio interface. The plug-and-play solution is USB-C capable and it features a headphone output and input level control.
Finally, the new large diaphragm condenser is called the Mackie EM-91C. It promises super warm and rich character for both vocals and instruments, and—similarly to the USB mic—Mackie targets online content producers, recommending this mic for their live streaming and/or voiceover recordings.
Audient Unveils New Easy-to-Use EVO Audio Interfaces | NAMM 2020
In this streaming-heavy age, the number of gamers, YouTubers, podcasters, and home recordists is continually on the rise year over year. And with this massive increase in the streaming scene comes an increasing need for simple, easy-to-use recording gear solutions that can rival the pro stuff in quality but not in complication (nor, ideally, in price).
Joining the likes of IK Multimedia's iRig is a new audio interface called the EVO from Audient, which promises to do just that: rivals the pros without the headaches. The core promise of this new, exceedingly slim interface is an intuitive user experience complete with helpful application-specific features like Smartgain, which automatically sets the gain level when the user starts playing or singing.
The savvy can still manually dial in their gain if they so choose, but as Audient's Marketing Director Andy Allen explains, "We believe technology shouldn't get in the way of the creative process; it should enhance it and be accessible to all, no matter what their skill-level or art-form and EVO is here to help make great-sounding recordings as easy and effortless as possible."
Additionally, the EVO features all-new mic preamps with 58dB gain ranges, excellent converters featuring a 113dB dynamic range alongside a JFET D.I., speaker/headphone outputs, ultra-low latency, monitor mix, loopback functionality, and "smart" features like Smartgain and Smart Touchpoints.
SSL Announces Its First Personal-Studio Audio Interfaces | NAMM 2020
Audio interfaces continue to be a booming segment of the pro audio market, as companies from PreSonus to Focusrite to Universal Audio offer myriad ways for home recordists and mobile engineers to record tracks with ease.
Today, Solid State Logic (SSL)—a legacy company best known for its large-format mixing consoles of the '70s and '80s—enters the scene, shrinking down some of its accrued tech and know-how into a pair of desktop two-input interfaces.
The SSL 2 and SSL 2+ are both USB-powered and offer 24-bit/192kHz conversion as well as a function the company calls Legacy 4K mode. "Inspired by the studio-favorite, hit-making SSL 4000 series consoles," the company writes, the Legacy 4K mode "gives you the ability to add extra analogue character and sparkle to your input sources."
The differences between the SSL 2 and SSL 2+ are minimal, with the Plus model offering expanded input and output options: an "additional headphone output with independent monitor mix, MIDI I/O, and additional un-balanced outputs for DJ Mixers."
According to SSL, the shared features of the interfaces include:
Alps Pots throughout
Neutrik XLR and Jack Connectors
AKM AD/DA Converters – as used in our acclaimed Alpha-Link I/O products
Mic Preamp EIN: -130.5 dB; Gain Range: 62 dB
Max Instrument Input Level: +15 dBu; Max Line Input Level: +24 dBu
Monitor Output Dynamic Range: 112 dB​; Max Output Level: + 12.5 dBu​
Headphone Output(s) Dynamic Range: 111 dB; Max Output: +10 dBu
And in a move that follows PreSonus, Universal Audio, and other manufacturers, the new SSL interfaces will include a free software bundle, the SSL Production Pack, that includes light versions of Pro Tools and Ableton Live, along with a collection of Loopcloud samples and "SSL's own studio-grade Native plugins, giv[ing] you an incredible arsenal of tools for refining your recordings.