1. Focal Trio 11 Be
As well as new speaker drivers (a 5" midrange and a 10" subwoofer) with high efficiency and power handling, the Trio11 Be monitor enjoys all of Focal's very latest technologies when it comes to acoustics and electronics:
TDM and NIC technologies; optimized vents that promote dynamic control and perfect bass definition; high excursion, enabling even more linearity of the subwoofer...
Thanks to its class G amplification, Trio11 Be delivers a high SPL (118dB at 1m) and offers great versatility of use and installation configurations in nearfield AND midfield applications.
A key asset, always coming along with extremely precise sound reproduction and stereo image. With an extended bandwidth (30 Hz-40 kHz), this loudspeaker is also composed of a 3-way monitor and a 2-way monitor, just like Trio 6 Be which lets you check the mix transfer sound quality thanks to FOCUS mode.
With Trio11 Be, power and versatility are waiting for you! Feel the difference!
Meticulous Finishes The cabinet developed and manufactured by Focal in its cabinetry workshop in Bourbon-Lancy in France, consists of two side panels and a body in MDF measuring between 13/16" (21mm) and 13/16" (30mm) thick: an indicator of the quality of each material chosen, combined with careful attention to the finishes.
Trio11 Be has two side panels in a natural dark red burr ash veneer and a black central body, for an aesthetic rendering that is also discreet and hard-wearing.
FOCUS mode 2 MONITORS IN 1 Trio11 Be combines two monitors in a single enclosure. The 3-way monitor provides a flawless control of the entire audio spectrum (30 Hz – 40 kHz). The 2-way monitor, with a frequency response of 90 Hz to 20 kHz, makes it possible to check the transfer quality of mixes on systems with a limited frequency response in the bass (televisions, computers, cars, etc.).
The Dutch & Dutch 8c is a highly accurate active studio monitor combining revolutionary design with powerful DSP to offer perfect integration in any room with wide sweet spot and natural and detailed sound.
The Dutch & Dutch 8C uses a proprietary waveguide tweeter with an acoustic cardioid midrange and boundary-coupled bass drivers and active room matching, to provide stunning acoustical reproduction in any room.
Unlike traditional speakers, the 8C can be placed closer to room boundaries without losing performance.
Built to provide superior detail and clarity, the 8c provides constant directivity from 100Hz upwards and has a linear frequency response from 35Hz and up (+/- 0.5dB) offering unparalleled neutrality, precision and in-room tonal balance.
The subwoofer is powered by a 500Watts amplifier feeding two high-excursion 8" drivers with boundary loading to ensure uncompromised precision and impact. The cabinet is made of high-quality birch plywood surrounded by stunning solid oak exterior panels.
Despite their compact footprint, the speakers include high-quality DACs, subwoofers, DSP and room matching and streaming capabilities. DSP includes controls to let you fine tune your system, emulate another loudspeaker or simply tweak the sound a little.
The DSP can be controlled via its web-based application or a native App on your phone or tablet. Automatic updates are also available with new firmware provided to keep your speaker up-to-date with the latest standards and features.
Barefoot Sound's new Footprint line of powered near-field monitors delivers the company's uncompromising audio performance and build quality to engineers, producers, composers and musicians working in smaller spaces and with smaller budgets.
The new line launches with the Barefoot Footprint01, an active 3-way speaker that shares the same Thomas Barefoot signature designs — Dual-Force™ technology opposing subwoofers, dual ring radiator tweeter and Multi-Emphasis Monitor Emulation™ technology — as the MicroMain and MasterStack monitor lines.
Footprint01 features dual opposing 8-inch paper cone subwoofers, a 4-inch aluminum cone midrange driver and a 1-inch dual ring radiating tweeter, components that all share a lineage with Barefoot's other products.
The 2-way DSP crossover feeds dual Class D amplifier modules that drive the subwoofers with 500 W of power and deliver 150 W to the mid- and high-frequency drivers. There is a passive crossover network between the midrange driver and the tweeter.
The midrange woofer is positioned above the tweeter in an unusual speaker geometry that creates the acoustic focus in the center of the cabinet.
Engineering the best speaker possible
Heavy science and engineering backs up every ATC product. These monitors aren't just cobbled together from parts that will work together. The ATC SCM25A Pro was thoroughly engineered to give you the best sound, response, and reproduction of your audio possible. You'll hear every change and every detail in your recordings. Hear the difference of truly engineered monitors with the ATC SCM25A Pro.
Proprietary speakers offer life-like playback
Great-sounding monitors start with great-sounding speakers. The ATC SCM25A Pro's low and mid drivers are manufactured to exacting standards at their in-house facility. Hand-wound voice coils are made from flat oxygen-free copper wire and operate in a precision long magnetic gap.
Specially designed magnet vents not only reduce air flow noise and heat, but increase power handling and reliability. These drivers are designed to give you a smooth and even frequency response without built-in EQ. In short, the SCM25A Pro was designed to perform and sound better.
The legacy of ATC monitors
A young engineer named Billy Woodman spent his younger days working side by side with some of the best speaker engineers of his day. In 1974 Billy went on to found ATC, Acoustic Transducer Company, and began building amazing-sounding speakers. Today ATC hand builds speakers one at a time to ensure the utmost quality and best sound. Billy continues to invent new drivers, new speakers and new ideas, giving you the best monitors in the industry.
How good are ATC monitors? Just ask producers and engineers like George Massenburg, Chuck Ainley and Doug Sax. You'll also find them in Abbey Road Studios, Sony Studios New York, Blackbird Studios. and many more. Grab a pair of ATC SCM25A Pro monitors and hear the difference they'll make in your studio.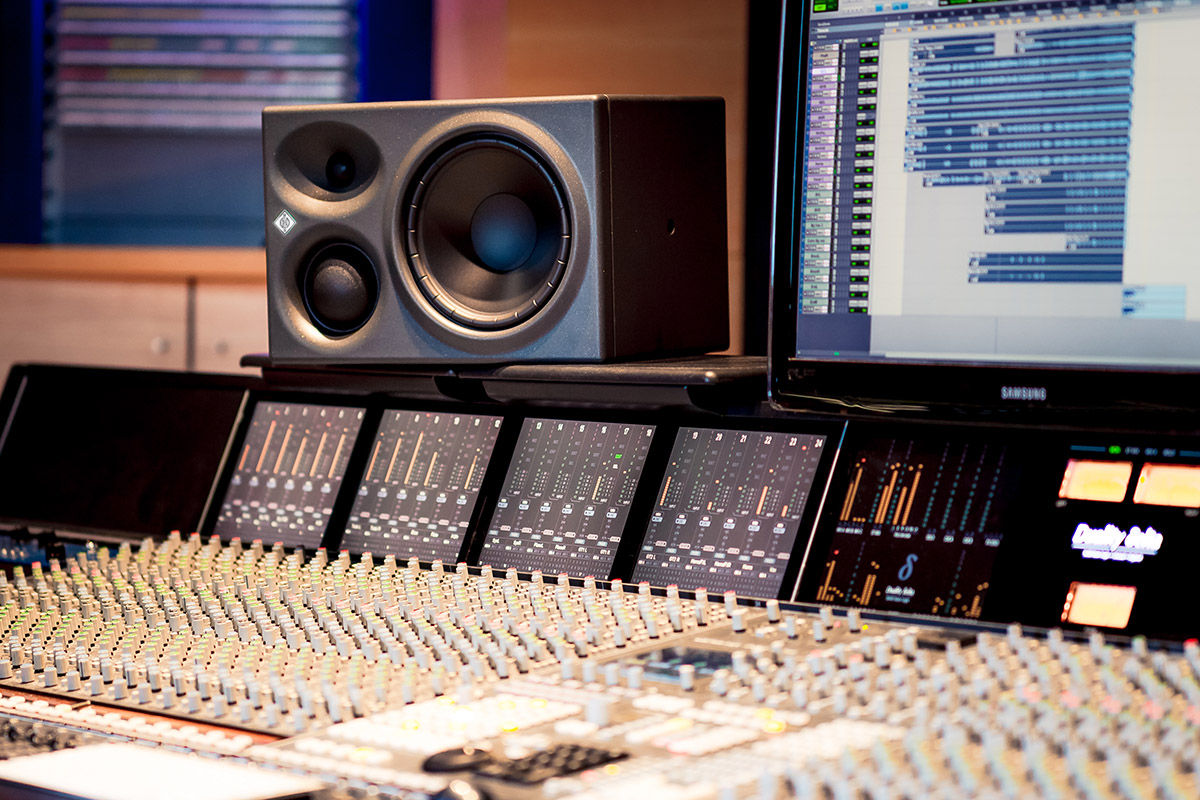 The KH 310 three-way active tri-amplified monitor features a Mathematically Modeled Dispersion™ Waveguide (MMD™), flexible acoustical controls, various input options and an extensive range of mounting hardware.
This allows the loudspeaker to be used in diverse acoustical conditions, with any source equipment and in a wide variety of physical locations. The KH 310 represents the latest in acoustic and electronic simulation and measurement technologies to ensure the most accurate sound reproduction possible.

The KH 310 is designed for use as a near-field monitor, as a front loudspeaker in mid-sized multi-channel systems, or as a rear loudspeaker in a larger multi-channel system. It can be used in project, music, broadcast centers, OB vans, and post production studios for tracking, mixing, and mastering.
This standard bearer of the Shape series features two passive radiators, woofers equipped with a new Flax cone, and the latest "M"-shaped Aluminium/Magnesium inverted dome tweeter. Perfect weapon of mass production for professionals. Shape Twin is made in France, just like Shape 40, 50 and 65. 
Designed to meet the needs of nearfield monitoring, these monitors combine an ingenuous design and numerous settings optimised for the acoustics of small listening rooms.
Shape Twin stands out through its excellent rendering over the whole audio spectrum, its broad frequency response in the low end, and its high SPL considering its size. The compact design makes it easy to integrate even into the most cramped of rooms. 
Finally, its 2.5-way design gives it a real advantage when it comes to controlling the bass and lower mid-range registers which are the hardest to control in small rooms.
Shape Twin's five innovations present a remarkable tonal balance, with very wide and precise stereo imaging. The low frequencies are well defined  as well as controlled. The low-mid and mid ranges provide a true neutral sound.
7. Adam A7X
The A7X is ADAM Audio's best selling nearfield monitor. It is one of the most balanced and versatile speakers currently on the market. The X-ART tweeter produces detailed, uncompressed highs and upper mids without being tiring over long listening periods. Despite its compact housing, the bass response is powerful and precise.
The tweeter is driven by a 50 Watt A/B amplifier and the bass/mid-woofer by a 100 Watt PWM amplifier. This achieves a very clean and nuanced reproduction of the midrange frequencies with a seamless transition in the crossover from the 7″ woofer, which operates in the range of 42 Hz to 2.5 kHz, towards the X-ART tweeter.
The A7X's ability to exactly reproduce every sonic detail no matter how small, its translucent sound image, tonal depth and stereo localization inspires music producers and explains why it is by far the most reviewed and award-winning monitor in recent years.
The A7X matches the A.R.T. tweeter with a state of the art 6.5" woofer that introduces a new cone material combining high rigidity and high internal damping with low weight, resulting in an extremely accurate monitor with all the clarity, detail and spectacular imaging traditionally associated with the ADAM name.
The Alpha 65 performs just as well with instrumental music as with electronic music, and is characterised by its great versatility. This model is composed of a 6.5" (16.5cm) woofer/ midrange speaker with a Polyglass cone loaded in a large laminar port associated to a 70W amplifier and of a 1" (25mm) aluminum inverted dome tweeter (35W amplifier).
Alpha 65 has a frequency response of 40Hz to 22kHz (+/- 3dB).
Low directivity: keeps the same sound throughout the room.

Damping and rigidity: neutrality, no distortion.

Tonal balance is identical at low and high volumes; low sensitivity to the wall effects.

Connect up to 2 audio sources.

Optimal acoustic integration.

Reduced power consumption.
Our best-selling studio monitors just got better.
With their smooth, accurate frequency response; powerful amplification with tons of headroom; and acoustic tuning functions that ensure you always get the best sound... it's no wonder that the original Eris®-series studio monitors have been a runaway hit since their introduction. The Eris E5 XT is a substantial update to a lauded classic. Deeper lows and a wider, more controlled sweet spot (thanks to its new EBM wave guide design) mean that our best-selling studio monitors just got even better.
Studio speakers with a wide sweet spot.
We outfitted the Eris XT studio monitors with a new EBM (Elliptical Boundary Modeled) wave guide designed by none other than Hugh Sarvis of WorxAudio, the mind behind our award-winning CDL loudspeakers and lauded R-Series monitors. The result? A superior high-frequency response and wider 100-degree horizontal dispersion to create a broader sweet spot. It's ideal for group listening and collaboration—while narrow vertical dispersion reduces reflections from your desk. Silk-dome tweeters ensure snappy, accurate transient reproduction.
Lows that go lower.
The familiar woven composite low-frequency driver still offers Eris' signature tight, clear bass; plenty of punch and no flub. Eris E5 XT studio monitors sport a ported enclosure that is larger than that of their predecessors, allowing them to reach down to an astonishing 48 Hz. That's 10 Hz below previous models—with no subwoofer required!Lows that go lower.

The familiar woven composite low-frequency driver still offers Eris' signature tight, clear bass; plenty of punch and no flub. Eris E5 XT studio monitors sport a ported enclosure that is larger than that of their predecessors, allowing them to reach down to an astonishing 48 Hz. That's 10 Hz below previous models—with no subwoofer required!
PreSonus® Eris-series studio monitors are used worldwide by audio engineers who need to hear every detail of their recordings. Ideal for gaming and home video production, the Eris E3.5 employs the same technology as the larger Eris models to deliver studio-quality sound, with a smooth and accurate frequency response. Yet they're compact enough to fit almost anywhere.
Woofers that deliver a cleaner overall sound.
Every Eris-series studio monitor utilizes a woven composite, low-frequency driver. The weave and nature of the Eris E3.5's 3.5-inch woofer result in a more constant dispersion pattern throughout the frequency range, resulting in less time-smeared audio and cleaner overall sound.
Smooth high end and wide sweet spot.
The Eris E3.5 is equipped with a one-inch silk-dome tweeter that produces a smooth and refined sound, accurately reproducing transients and high frequencies. The tweeter is designed to radiate sound with a fairly wide dispersion pattern, creating a large optimal listening area or "sweet spot" so you can move around and still hear everything accurately.